US 82nd Airborne Division
Brief History
The 82nd Division was activated at Camp Gordon, Georgia, on 25 August 1917. It was one of the National Army divisions of conscript soldiers. As the Division filled, it was discovered there were soldiers from every state. Through a popular contest, the nickname "All American" was chosen to reflect the unique composition of the 82nd.
The division went to war in 1918 and took part in the Allied victories which led to the defeat of the Axis armies in Europe, The 82nd Division was demobilized on 27 May 1919, but was reconstituted on 24 June 1921. On 30 January 1942, the 82nd Division was renamed the 82nd Infantry Division. Japan's attack on Pearl Harbor on 7 December 1941 brought the United States to war again. The 82nd Infantry Division was called to active duty on 25 March 1942 with Major General Omar Bradley as commander and Brigadier General Matthew Ridgway as assistant commander.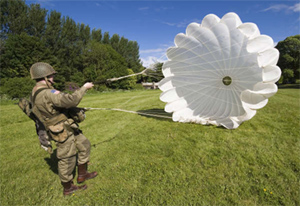 Due to its high level of training, the 82nd Infantry Division was designated the US Army's first airborne division. The 82nd was reorganized and redesignated the 82nd Airborne Division on 15 August 1942. The division went on to play a vital part in every major operation of the war including the invasion Normandy, Market Garden and the Battle of the Bulge.
(extracts from http://www.globalsecurity.org/military/agency/army/82abn-history.htm)
The men of the 82nd ABN hold a special place in the hearts of the people of Northern Ireland and the members of the WLHA, as in the winter of 1943, the division was stationed all over the provience, before proceeding to England and finally Normandy (D-Day)
The Unit
Members of the WLHA have decided to represent the men of the 505th Parachute Infantry Regiment F Company. At the clubs various shows/events we represent how the men of the 505th lived their lives both in combat and behind the lines. We have chosen to recreate the appearance of the Regiment before/during the Normandy invasion, so allowing us to wear the M42 Jumpsuit made famous by the men of the US Airborne Divisions.
If you are interested in the 82nd ABN and would like to help the men of F Company keep their memories alive, why not drop us an email at: recruitment@wartimeliving.co.uk